Dr Anna Ananieva is an internationally trained academic who is an expert at combining cultural and literature studies with history in an interdisciplinary approach. Through her cultural transfer studies on the entangled history of garden art in 18C Europe, she has developed a prominent research profile. Media and practices of entertainment and sociability in the 19C constitute a second key area, with two books published on this topic exploring the German-speaking world. Her third research field lies in material culture and visual art as a medium of communication and memory.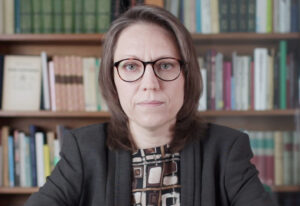 Her academic career began at the Kazan State University, Russia, and then at the University of Giessen, Germany, where she received her doctorate in 2009. From 2003 to 2008 she worked as a research assistant at the University of Giessen at the Collaborative Research Centre 434 "Memory Cultures", and between 2007 and 2010 as a research fellow at the University of Bonn.
As a postdoctoral researcher, she was engaged with a multi-disciplinary group of doctoral students "Space and Power: Garden and City in early modern Europe" at the University of Mainz in 2010-2012. As a leading investigator, she supervised a two-year research project "Circulation of News and Goods" at the University of Tübingen in 2013-2015. The project explored transnational networks in the press market in the early 19C, illuminating the production and reception of several European journals published in Leipzig, Prague, Budapest, and St. Petersburg. From 2016 to 2018 she joined the Queen Mary University of London as a Marie Sklodowska-Curie Fellow while working on her book-length study "Aestheticization of Life and Cosmopolitan Modernity: The Poetics of Elegance in the Long 19th Century". Then, in order to complete her Habilitation she returned to the University of Tübingen. In 2019 she was awarded the Tandem-Fellowship in Global and Trans-Regional History from the German Historical Institute Washington and was a Visiting Researcher at Georgetown University during the academic year 2019-2020. In June 2021 she received a research grant from the Federal Government Commissioner for Culture and the Media (BKM) for a two-year research project on the global entanglements of the Kotzebue-Krusenstern Family Network in the 19C which she is supervising with Klaus Gestwa at the University of Tübingen. In October 2021 she accepted a position as a Senior Research Fellow with the Leibniz Institute for East and Southeast European Studies in Regensburg.
Ananieva was curator and co-curator of 6 exhibitions; she consulted a documentary series for the Franco-German TV network "Arte", and has published 2 monographs, 4 edited volumes and 2 themed issues of journals leading in the field. Overall she authored 56 articles and book chapters published in German, Russian, English, and French. She has given numerous invited talks locally, nationally, and internationally.